0
---
Published: January 18, 2016 10:57am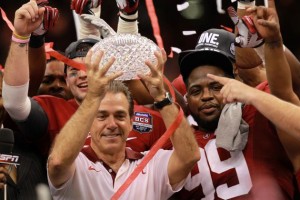 Just returned yesterday from beautiful downtown Las Vegas where I cashed the Royal's World Series ticket as well as the Alabama winner. The Tide returned 1,700 units on a 700 unit investment for a net profit of 1,000 units or a 242% ROI (Return on Investment). I have heard from several of you that you were along for the ride on the Tide!! Congratulations!!
I was also visiting the desert to make my basketball plays and I am sorry to announce I will be passing on the NBA this year because I found absolutely no value in the lines offered. The three teams that I think will be playing into June the Warriors, the Spurs and the Cavs are all well under my 5/1 minimum with the best odds available listed below:
Warriors +125 (Westgate)
Spurs 7/2 (El Cortez)
Cavs 5/2 (Numerous casinos)
One of the important factors in winning while playing the futures is to know when to walk away. We can wait until the beginning of the playoffs and get similar odds then.
I found the odds to win March Madness much closer to my liking and made 100 unit wagers on each of the five teams below:
Villanova 20/1 (El Cortez)
UNC 8/1 (El Cortez)
Maryland 15/1 (Golden Nugget)
Oklahoma 12/1(Westgate)
Kansas 7/1 (Westgate)
I strongly believe this year's champion is one of these five squads and as always it paid to shop with many of the casinos having much lower odds especially on the Vegas Strip. Those of you who are unfamiliar with downtown Las Vegas the El Cortez is on the opposite side of Fremont Street as the Union Plaza. It is one of the original books and is not located in the nicest areas but as you can see from above it is worth a visit. There you have it this year's 500 unit basketball investment.
We are still alive with our NFL wagers on the Cards (200 units at 12/1) and Patriots (100/380) but have torn up tickets on the Bengals and Packers. Having two of the final four is a good sign but both of them playing on the road is not.
Thanks for logging in and good luck wagering the AFC-NFC Championship games.