0
---
Published: July 25, 2014 11:50am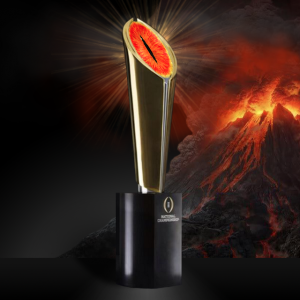 More than the trophy has changed is what was going through my mind earlier this week as I traversed the hot desert floor of Sin City in search of the "best" college football futures odds. In the good old BCS days my strategy was to wager on two or three teams that I thought could go undefeated and end up in the Championship game. This year my approach has dramatically changed due to the fact that there will be a final four in college football with the semis taking place on New Year's Day in the Rose and Sugar Bowls. The winners of those two contests will meet for the trophy pictured above on Monday, January 12th 2015. That fact makes me think the "Bettor Approach" to this year's CFB futures might be to try and get as many teams as possible into the final four at excellent odds. I strongly believe the selection committee will lean towards "inviting" the winners of the five power conferences (ACC, Big 10, Big 12, SEC and Pac 12) with the possibility of selecting more than one team from the media's favorite conference the SEC.
So I decided to zero in on the five teams that I feel could win their respective conferences. Right out of the gate I eliminate Florida State of the ACC because they are both the returning champion as well as the favorite across Vegas. Their odds were as low as 2 ½ to 1 at the Stratosphere and only the Fremont had them at my minimum of 5/1. Next up was the Big Ten where I believe the Buckeyes of THE Ohio State University will be this year's champion. Their odds ranged as low as 5/1 all the way up to 12/1 at the LVH. I wagered 100 units on them to be CFB Champs at the LVH. In the Big 12 I wagered 100 units on Oklahoma at 12/1 as well. In the Pac 12 I was torn between Oregon (6/1 best odds ) and UCLA at 15/1. My gut told me Coach Mora has something special going on in Westwood and the 15/1 number made it easy to put 100 units down on them as well. Both the Bruins and Sooners had their best odds at the Fremont in downtown Las Vegas.
Then came decision time on the SEC. Alabama was 5/1 and below in most sports books I visited on Monday but I was able to find them at 6/1 at the Venetian's new 24 hour sports theater. I placed a 200 unit wager on them there. I also placed 50 unit wagers on Georgia (27/1) and South Carolina (45/1) there as well. I then returned downtown and placed 50 unit wagers on LSU at 20/1 (Binions) and Auburn at 15/1 (Fremont). These five wagers on the SEC squads are based on my belief that there is a very good chance that two teams from this conference will be selected by the inaugural selection committee.
Below I have summarized my wagers on this year's college champion futures:
Alabama             200 Units       6/1
Ohio State          100 Units      12/1
Oklahoma          100 Units      12/1
UCLA                  100 Units      15/1
Georgia                 50 Units      27/1
South Carolina     50 Units       45/1
LSU                       50 Units      20/1
Auburn                  50 Units      15/1
This year's total investment is 700 units. Remember we are looking for ROI (Return On Investment) and this year we will have three games and or chances to perhaps catch a middle like we did last year in the Championship game (See December 15, 2013 post). Thanks for logging on and good luck to everyone in the upcoming college football season.