0
---
Published: June 17, 2015 2:42pm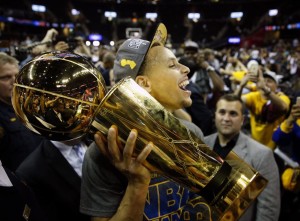 The Chicago Blackhawks and Golden State Warriors both came through to give us another profitable winter sports futures season. Back in October I put 20 units on the Tampa Bay Lightning at 17/1 odds and 50 units each on the Anaheim Ducks (8/1) and Chicago Blackhawks (5.5/1). Thus we netted 325 units on our 120 unit investment for a 271% ROI.
In January I wagered 100 units each on the Trail Blazers (20/1) and Mavericks (12/1) as well as 200 units on the Warriors (6/1) to win the NBA Larry O'Brien Trophy. This gave us a return of 1,400 units on an investment of 400 units or a 350% ROI.
Remember we lost 100 units on Virginia so our winter bankroll showed 1,105 units profit. I know many of you do not enjoy playing the futures but as Vegas gets better technology your chances of making a profit betting single games diminishes considerably. I have been betting sports 50 years now and I can tell you the days of holes in the lines are long gone. I understand many of you love the excitement of the immediate action you get playing a single event. The purpose of this site is not to get you to stop that rush you get but perhaps to get you to put at least part of your bankroll into the futures. It can be fun and profitable.
I will be going back to Sin City early next month to make my Blackhawks and Warrior withdraws and push a little something back through the windows on this year's NCAA Football futures. I will have my picks and the best odds location posted by the 4th of July. I am going earlier this year but I will explain that later. Meanwhile if you followed my MLB plays back in May I am sure you are enjoying the stellar play of both the Royals and Cardinals. There is still a long way to go but so far so good. Thanks for logging in and good luck if you are betting baseball.